Mahakoshal Refractories Pvt. Ltd. (MRPL) was established in 1969. MRPL is India's leading manufacturer of World Class Refractories and provides Total Refractories Solutions (TRS) to the customers. Our business philosophy is to develop long term relationship with our customers, suppliers and employees with supply of quality products, sharp delivery commitments and world-class services.
To cater the own requirement of good quality High Alumina Cement (HAC) of different varieties for production of monolithics, MRPL started manufacturing of HAC in 2004. Today MRPL has own facility for calcination of different refractory raw materials with full control over input minerals from own Mines as well as precisely selected nearby Mines through long term agreements.
With an annual production capacity of ~80,000MT, MRPL also makes 150 MT of Stainless Steel Anchors and 24,000 MT of calcined minerals every year. The main works is strategically located at Katni District of Madhya Pradesh in Central India, well connected by Road, Railways & Flights. MRPL has also operations at Gudri, - about 17 kms away from the main plant.
Why Mahakoshal refractories:-
Excellent relationship with all stakeholders. Long term associations with Customers, Suppliers and Employees
Good raw material availability from



Captive Clay and bauxite mines in Madhya Pradesh
Proximity to locally available other raw materials
Imported raw materials are also procured from global vendors
Calcination of raw materials and full fledged crushing and grading circuits for quality consistent products
Manufacture of our own high alumina cements of different grades
Manufacture of Synthetic raw materials

Locational advantage



We cater to pan India requirements since we are centrally located
Well connected by rail, road and flights
Peaceful area – no natural calamities
Availability of plenty of land and finance for up-gradation

Mould making in our fully equipped workshop capable of making machines also.



We can achieve very stringent dimensional tolerance in shaped products
Availability of skilled and experienced manpower
All complicated designs and shapes are possible
Anchors, mixer machines and gunning machines are also fabricated

One star export house
Crisil rating BBB
ISO 9001: 2015 Certified
Our own refractory application and installation team
IT facilities with ERP implementation
Already supplying to well known, global refractory manufacturers also
To be a premium refractory Producer, global in size and reach,with passion for excellence.
"To work closely with our customers to meet their requirements and ensure total customer satisfaction through excellence in product quality, response time, delivery commitment and price competitiveness while achieving profitable growth"
INFRASTRUCTURE  FOR  TESTING R & D LABORATORY
Quality of input Raw Materials is the baseline for design of Refractories (both Shaped and Unshaped). As of today, Mahakoshal Refractories Pvt. Ltd. has unique infrastructures for Testing and Quality Control of varieties of Raw Materials and finished products (mostly Alumina based products). Manpower at R&D is the blend of young and bright Chemists/Engineers guided by experienced Managers; and offers extensive services for testing following International Standards (like ISO, EN, ASTM, DIN etc.) and Indian Standards (IS). Testing and Inspection wing of the organization supports for:
QC of Incoming Raw Materials
QC of Finished Goods
External Inspection by Customers or their Appointee
Technical Support to Customers
Failure Analysis and Complaint Resolution
Creation of Products Datasheet
Modeling & Simulation
Testing facilities are broadly classified as:-
PHYSICAL:

Porosity and Bulk Density (by Archimedes Principle & Vacuum Methods)
Grain Size Analysis
Specific Surface Area (for Ultra-Fine Powders)
Setting Time (for Hydraulic Binders)
Humidity Chamber for Monolithics
CHEMICAL:

Gravimetric Method
Spectro-Photometer (for Transition Metal Oxides)
Flame Photometer (for Alkaline Oxides)
MECHANICAL:

Cold Crushing Strength (Compressive Strength)
Modulus of Rapture / Flexural Strength
Bonding Strength
Abrasion Testing

THERMAL:

Thermal Conductivity (Calorimetric and Hot Wire Method)
Pyrometric Cone Equivalent
Thermal Expansion
Permanent Linear Change
THERMO-MECHANICAL:

Creep in Compression
Refractoriness Under Load
Hot Modulus of Rapture
Thermal Shock Resistance (Air and Water Quenching)
MODELING:

Auto-CAD
Thermal Profiling of Equipment like Rotary Kiln etc.
Design of Bricks and Monolithics Lining Including Anchors
Simulation to Predict Performance Guarantee Based on Operational Parameters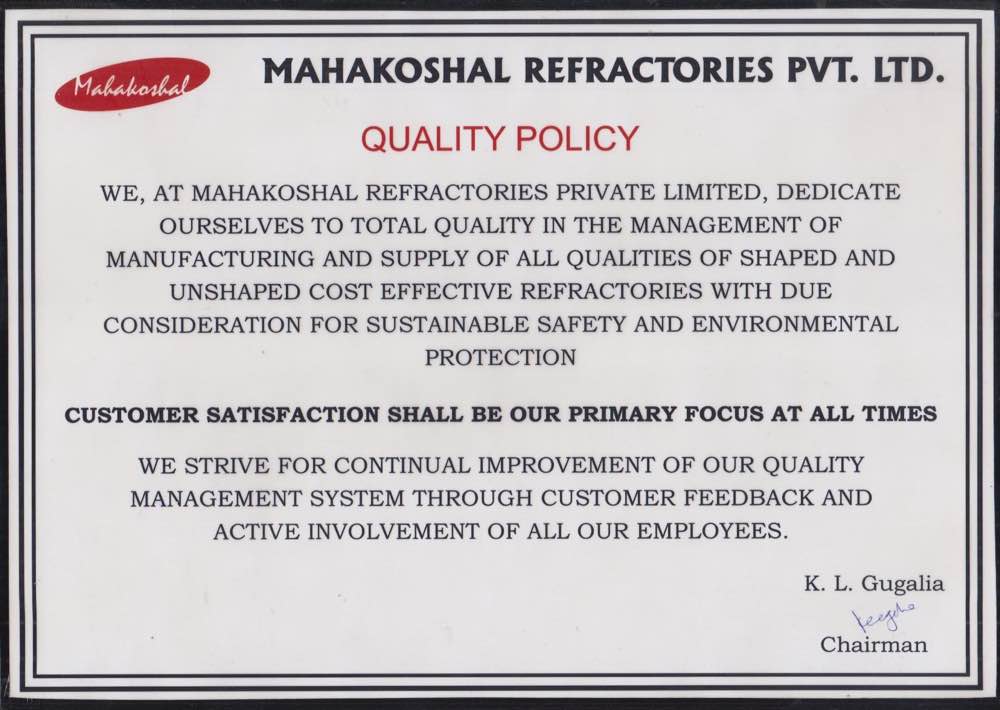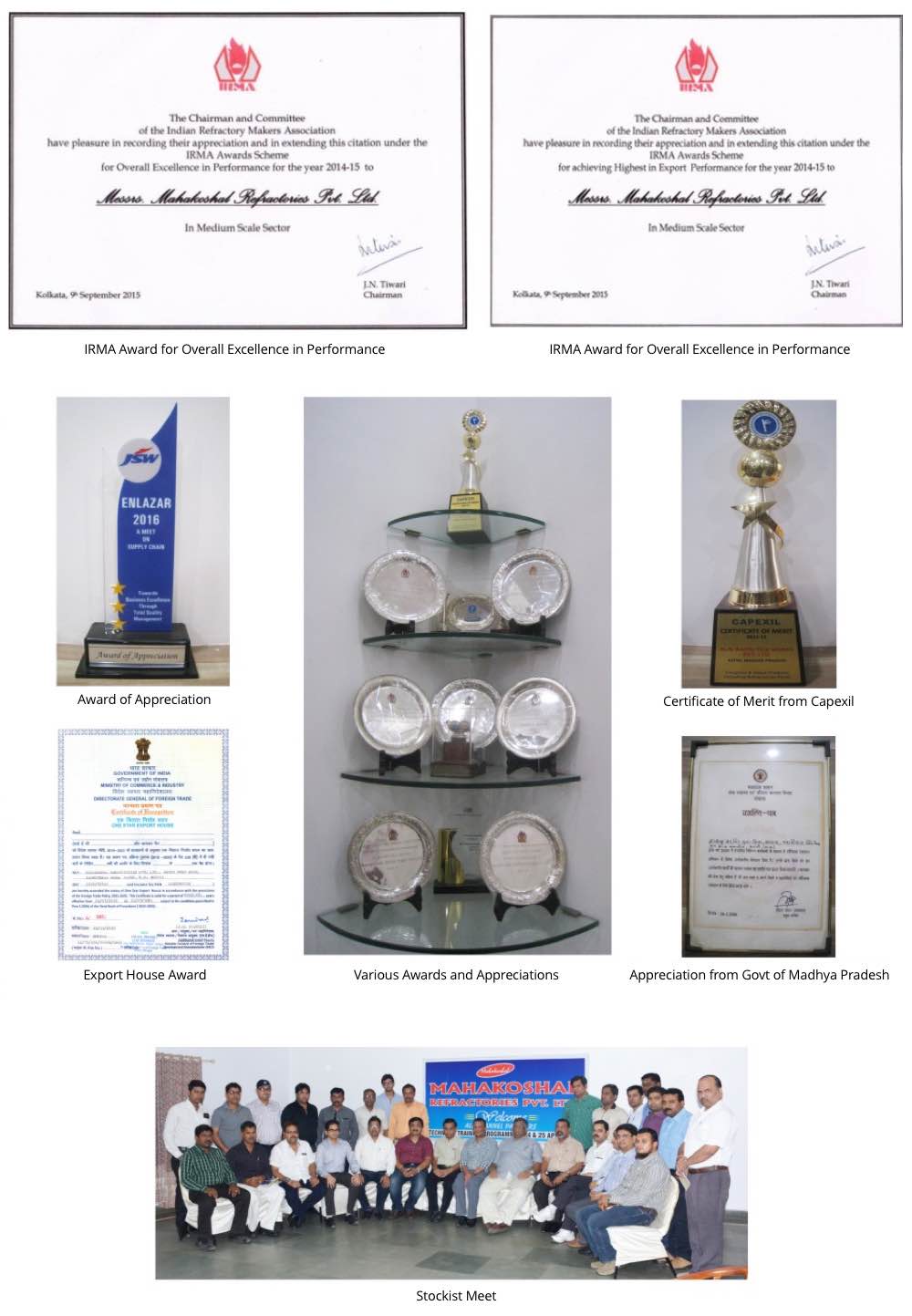 The company has comprehensive training & development plan for its employees. We have our own training center where training & development activities are carried out throughout the year based on the assessment of training needs through performance appraisal system.
Our organization is committed to determine the necessary competency level for its personnel. We provide regular training to our employees to achieve necessary competence and evaluate the effectiveness of training imparted.
We also ensure that our personnel are aware of the relevance and importance of their activities and how they contribute to the achievement of quality objective. We also maintain appropriate records of education, training, skills & experience.
Program of Art of Living is conducted in our Organization. In this program most of our employees has undergone Training for YOGA and PRANAYAM. They have undergone various Breathing Techniques, Sudarshan Kriya, Yoga sans which help them to increase their concentration & relieve stress. They have learnt to initiate activities and convert negative thoughts into positive thoughts. They become enthusiastic, confident and energetic. They can be able to control their anger and anxiety.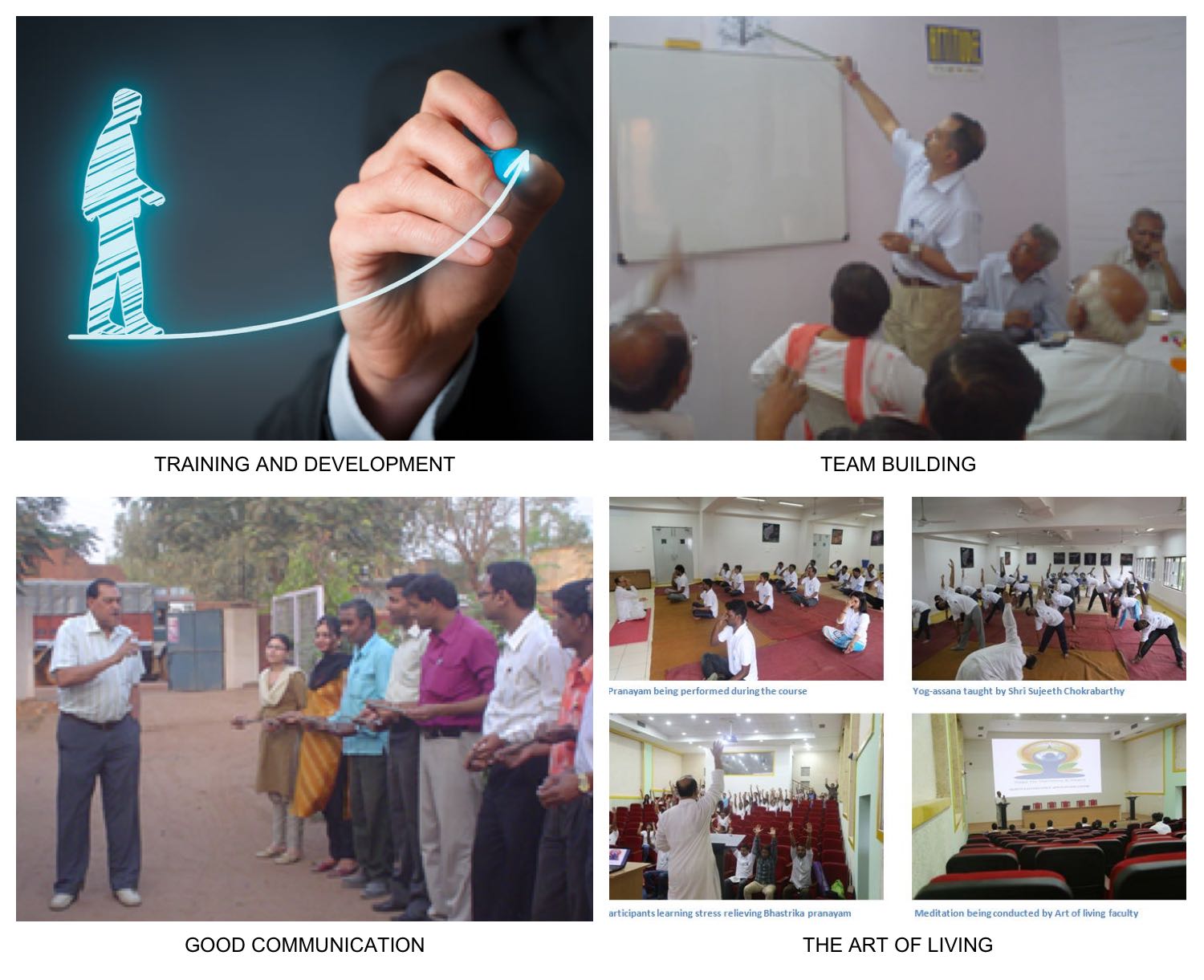 Export turnover constitutes around 1/3rd of the total turnover. Our presence in demanding European market signifies our good quality levels which are comparable to high international standards. We have excellent logistic network which helps us in giving prompt deliveries to our overseas customers. We have regular exports to countries like: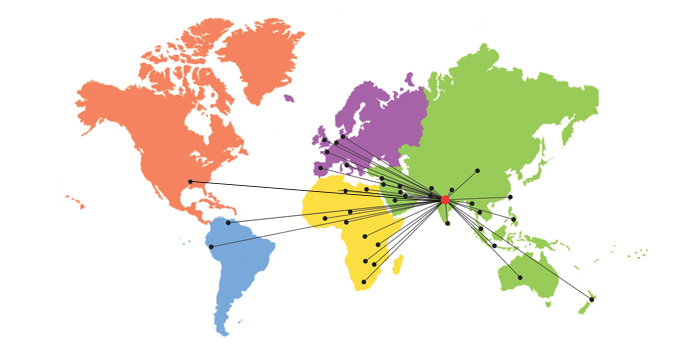 AUSTRALIA, AUSTRIA, BANGLADESH, EGYPT, FRANCE, ETHIOPIA, GERMANY, JORDAN, INDONESIA, IRAN, ITALY, IRAQ, KENYA, KUWAIT, NEW ZEALAND, JAPAN, QATAR, SOUTH AFRICA, SAUDI ARABIA, SPAIN, SRILANKA, SYRIA, THAILAND, UAE, UNITED KINGDOM, YEMEN,USA etc.
Our increasing export turnover has helped us in getting many prestigious export awards. We also offer turnkey contracts and total refractory management services to our overseas customers.
CSR is a way of conducting business, by which we visibly contribute to the social welfare and we do not limit ourselves to using resources to engage in activities that increase only our profits. We are actively involved for the betterment in the field of education and community development by adopting following
We provide teachers in nearby village schools.
Scholarships are given to meritorious students.
We support nearby orphanage for their daily needs.
We provide free tuition classes to economically weak students.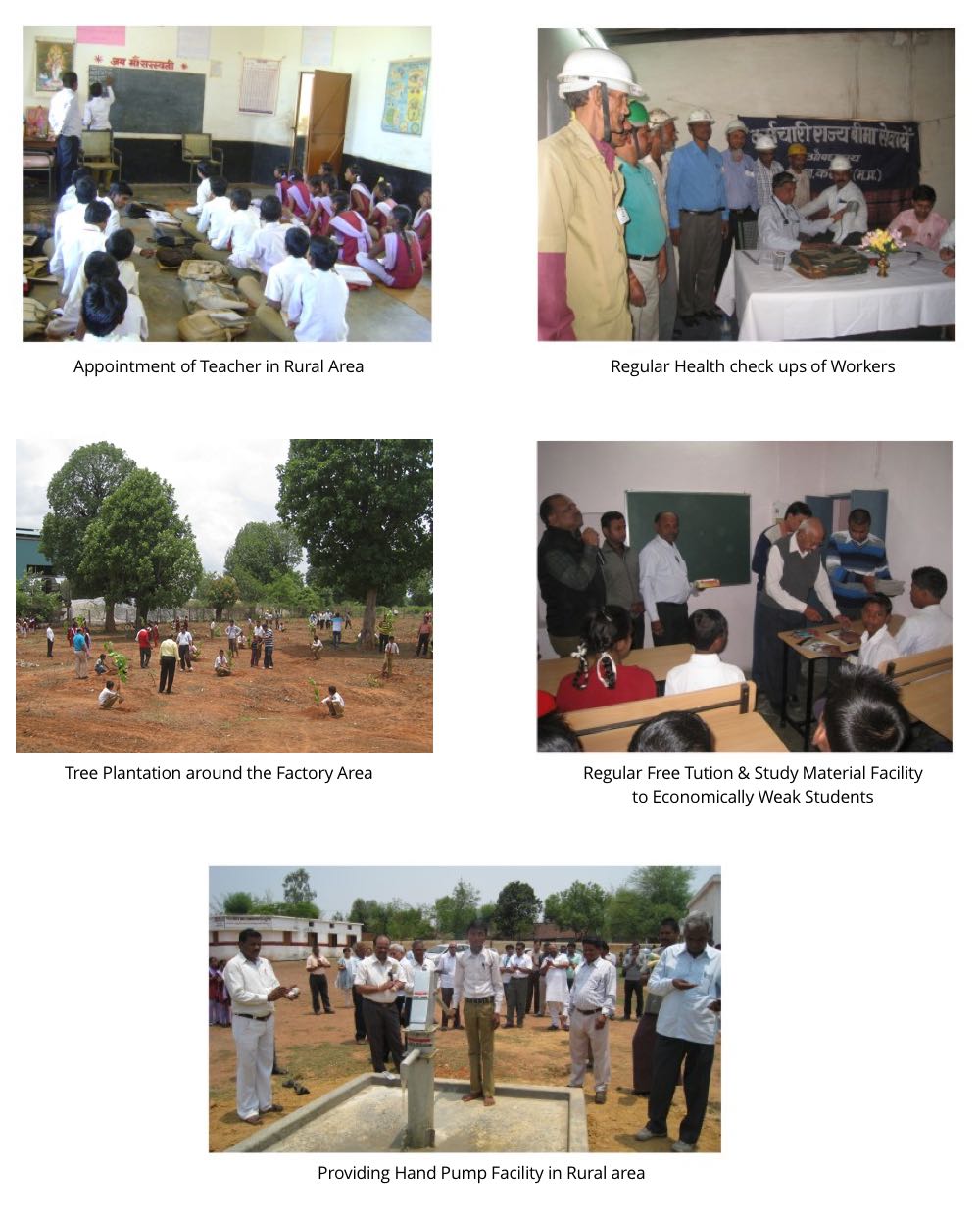 MAHAKOSHAL believes that high standards of environment health and safety performance are essential in all its business in order to achieve the financial and non financial goals of the Group.
We are committed as a company to the following principles:
We identify risks to the environment on each of our sites, and wherever possible, prevent or otherwise minimize harmful affects of their activities on the environment
We conduct periodic audits of our operating facilities to assess compliance with Health & safety laws & regulations and to drive continual improvement.
We timely conduct safety programs to spread awareness in Mahakoshal family.