Refractory Solutions for the aluminium Industry
THE DIFFERENT UNITS OF ALUMINIUM PLANT, NAMELY :
Flash Calciner
Rotary Kiln
Anode Baking Furnace (ABF)
Pot Furnace / Cell
Melting & Holding Furnace
Induction Furnace
Transfer Crucible
Launder / Trough
KEY UNITS ARE :
Melting & Holding Furnace
Anode Baking Furnace
Pot Furnace / Cell
Aluminum is a primary and important metal in our daily life; and the usage of it & it's alloys are getting increasing importance in both domestic and commercial sectors like electrical and electronics devices, architecture and construction fields, biological and dietary application, transportation and aviation purpose, packaging industries etc. With the advent of different modern technology and due to the continuously changing characteristics of the raw materials, the Aluminum Metallurgy has undergone severe technological modification. Refractories play an important role in each and every stage of the primary and secondary metal production units. Due to the ever-increasing demand of energy, cost, higher refractory life, minimal maintenance cost and good quality finished products of aluminum; there has been a tremendous thrust on refractory materials in order to achieve higher performance of anode baking furnaces, melting and holding furnaces, pot cells etc. Mahakoshal offers a comprehensive range of next generation refractories for Aluminum industries to achieve higher productivity, less downtime, uninterrupted operation, cost effective products etc. Today Mahakoshal is a renowned and established brand in International arena through our presence in Pot Furnace, Anode Baking Furnace and Melting & Holding Furnace. We are in the process of Certification of our products (both shaped and unshaped varieties) from different International Designers and Agencies. Performances of Refractories in Aluminium industries are mainly determined by high abrasion and severe corrosion coupled with thermal shock resistance due to operational requirement. Features of the Refractories for applications in respective areas are correlated accordingly as described in the following sections.
Solutions for
Anode baking Furnace (ABF)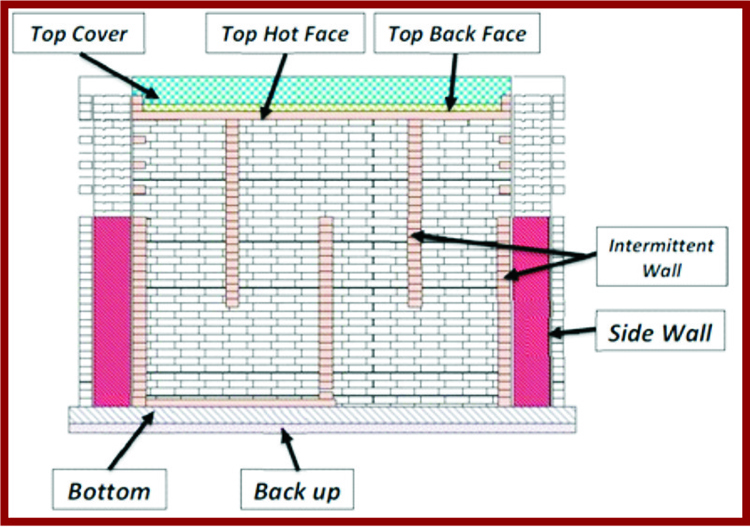 Refractories are selected for ABF application based on various International designers' set of specifications. The flue wall brick plays an important role for ABF application due to the high cost of the refractories including the material replacement and initial investment on the furnace construction. Refractory lining of anode baking furnaces suffers from severe corrosion by alkalies, sulfur,fluorine etc. Apart from chemical attack, the flue wall and head wall bricks are also subjected to mechanical impact, thermal cycling load and high temperature deformation. Progress has been made for the development of innovative products (with the base raw materials Fused Mullite, Andalusite, Tabular and Reactive Alumina etc.) having unique features like low gas permeability, high creep resistance, high HMOR value at 1300°C, resistance to CO gases and alkalies, good thermal shock resistance etc. Refractory Solution for Aluminium Industries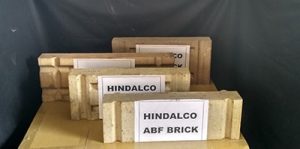 ABF Bricks
PCPF Top Block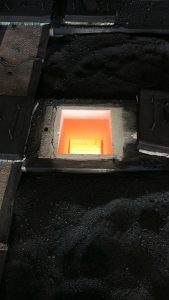 Top Block in Application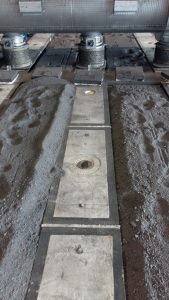 Mahakoshal TB2 After Application
Solutions for
Melting & Holding Furnace:
Durability of refractory used in secondary aluminum melting furnaces are increased by improving the stability of bonding materials, the matrix as well as the constituent oxides of the refractory brick towards the liquid aluminum and its alloys also. It is generally believed that Alumino-silicate refractories having less silica content normally exhibit superior resistance towards aluminum attack. The silica and silicates in refractory are reduced to elemental Silicon; and metallic Aluminum becomes oxidized to aluminum oxide and forms corundum mushrooms.
3sio2 +4Al +Al2o2+ 3Si
The external corundum growth occurs from the surface of the aluminum metal in the triple point junction between aluminum, refractory and atmosphere. In order to retard the direct reaction between silica and aluminum, so called anti-wetting components are used in refractories. Mahakoshal offers a unique product to suit the requirement of modern melting and holding furnace application. These products are designed based on high purity fused alumina grain with modified matrix and this enables the product to be highly resistant towards molten aluminum.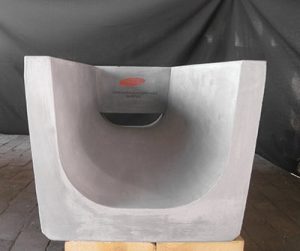 PCPF Launder for Casthouse
Solutions for
Pot Furnance Cell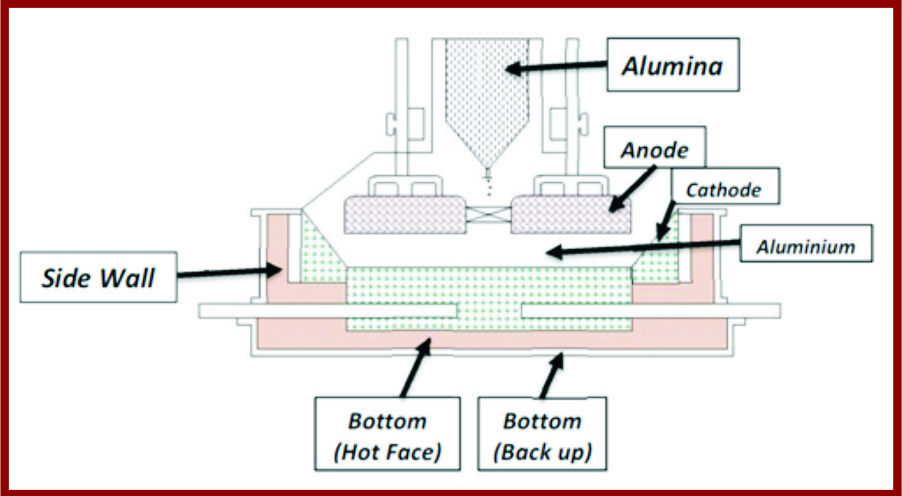 As Aluminium can't be produced by aqueous electrolytic process, the reduction of Alumina takes place in electrolyte (bath) containing Cryolite (3NaF.AlF3). Refractory lining of Pot Cell suffers from severe corrosion by alkalies, specially Fluorides along with mechanical impact and thermal cycling load. Mahakoshal offers an excellent alkali resistant low-alumina BRO grade bricks for pot furnace application having following unique
features:
High resistance towards molten Aluminum attack
High resistance towards fluorinated sodium compound
Formation of favorable phases like albite
Low thermal conductivity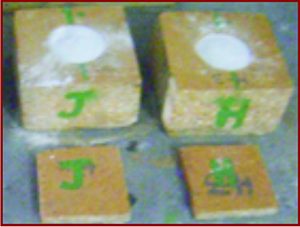 BRO Brick samples filled with Cryolite Mix(before Testing)
Excellent Molten Cryolite Resistant BRO Brick (After Testing)
Cut Surface of the BRO Bricks showing no sign of Corrosion/ Penetration of Molten Aluminium (A7 Grade)
Refractory Solution for Aluminium Industries 
BRO Bricks for Pot  Furnace