FIRE CLAY & HIGH ALUMINA MORTARS (Heat Setting)
Product Name
Chemical Analysis (wt%)
Grain Size (mm)
Max.
Workability
Nature of Bond
PCE (0C/OC) Min.
Service Temp. (0C) Max.
Application Area
Al2O3
Fe2O3
Mahakoshal
Mortar-IS6
24-28
3.0-4.0
0 – 0.5
Good
Ceramic
1564/20
1350
Laying of 30% Al2O3 Bricks
Mahakoshal
Mortar-HHD
26-30
3.0-4.0
0 – 0.5
Good
Ceramic
1621/26
1400
Laying of 35% Al2O3 Bricks
Mahakoshal
Mortar-40
34-38
3.0-4.0
0 – 0.5
Good
Ceramic
1665/30
1450
Laying of 40% Al2O3 Bricks
Mahakoshal
Mortar-45
41-45
3.0-4.0
0 – 0.5
Good
Ceramic
1683/31
1500
Laying of 45% Al2O3 Bricks
Mahakoshal
Mortar-50
46-50
3.5-4.5
0 – 0.5
Good
Ceramic
1683/31
1500
Laying of 50% Al2O3 Bricks
Mahakoshal
Mortar-60
54-58
3.5-4.5
0 – 0.5
Good
Ceramic
1717/32
1550
Laying of 60% Al2O3 Bricks
Mahakoshal
Mortar-70
64-68
4.0-5.0
0 – 0.5
Good
Ceramic
1743/33
1600
Laying of 70% Al2O3 Bricks
Mahakoshal
Mortar-80
75-80
2.5-3.5
0 – 0.5
Good
Ceramic
1785/35
1700
Laying of 80% Al2O3 Bricks
Mahakoshal
Mortar-85
80-85
2.0-2.5
0 – 0.5
Good
Ceramic
1804/36
1750
Laying of 85% Al2O3 Bricks
Mahakoshal
Mortar-90
85-90
0.5-1.5
0 – 0.5
Good
Ceramic
1820/37
1800
Laying of 90% Al2O3 Bricks
Mahakoshal
Mortar-Sillimanite
50-55
1.5-2.0
0 – 0.5
Good
Ceramic
1783/35
1650
Laying of Sillimanite Bricks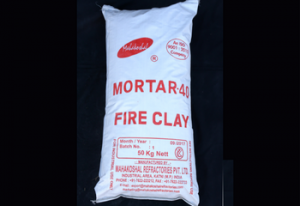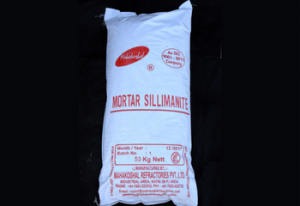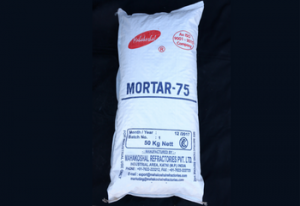 Notes
Mahakoshal does not warrant the accuracy, fitness for purpose or updates of any information disclosed herein. Specification of the products may change based on the geographical area to be supplied.
Data shown are based on average results of production samples and are subject to normal variation during individual tests.
and Min. values are given separately for testing purposes.
The information contained herein are exclusive property of Mahakoshal.